We've Got The Key: Services overview
We've Got The Key is the biggest auto locksmith in the United Kingdom, but what services do we provide to our clients? The answer is quite a lot! In this article, we go through each of the services our locksmiths complete daily.
Emergency Lockout
Our fully trained locksmiths train for hours to ensure they are capable of providing the three ways we gain access to vehicles. The most immediate and time sensitive service we provide is in an emergency lockout situation. Due to our 24 hours a day, seven days a week availability and nationwide locksmith base we are able to help drivers, stuck on the roadside daily. We would always strongly recommend not trying to take matters into your own hands if you are locked out of your vehicle, whether it's in an emergency or if it's simply an inconvenience. Our locksmiths have trained for endless hours to be able to perfect the art of gaining access to a vehicle and are accompanied with industry leading equipment o nboard their state-of-the-art vans. Attempting to break the window or pick your car door lock yourself can easily end with you injuring yourself and/or damaging your vehicle.
Vehicle Gaining Entry
Never before has it been easier to lock your keys in your vehicle. With modern cars such as Volkswagen, the auto locking system is at an all-time high in terms of lock sensitivity. After opening your door these vehicles have a maximum of 10 seconds before locking again. Delivery vans also have their highest ever security with the van locking itself as soon as the door is shut. Both examples are two regular reasons for our clients calling us to unlock their doors. Another regular reason for our locksmiths needing to gain access to vehicles are bladeless fobs. A high number of newer cars now do not require a key to be in the ignition to start the vehicle which is brilliant in terms of driver convenience. However, with drivers able to place these keys wherever they like in the vehicle there has been an increase of drivers leaving their vehicles without their keys before realising where they are after the vehicle has locked itself.
Our locksmiths are able to gain access to a vehicle in three different ways. The least common way is air bagging the vehicle. This is a last scenario option with the locksmith creating a wedge in the door before trying to catch and unlock the lock. For vehicles such as Mercedes, another way of gaining access to a vehicle can be diagnostically. This can be done by accessing the vehicle's codes. The most common route our locksmiths will go down to gain access to a vehicle is by picking the lock. Our locksmiths train for hours at our training academy to ensure they are able to pick the locks of hundreds of vehicles. Our locksmiths also have access to hundreds of different industry leading locks available to them on their vans. This unlocking process can take just a matter of minutes with the correct lock and is damage free.
Car Key Replacement
Perhaps you have lost your primary key or locked your only key inside your vehicle. Our friendly support team will take your details and situation and specifically quote you for the required job and key. Due to our vast level of key stock, we are able to assist hundreds of car types from the mid-1990s up to the modern day. Our locksmiths are trained to use the most up-to-date technology to cut you a new version of your key and code it. The coding process then ensures that the new key is synced with your vehicle and is fully operational.
Spare Car Keys
At We've Got The Key, our locksmiths are also trained to cut spare car keys. We recommend all car owners own a spare key. Owning a spare key can have a financial benefit when looking to sell the vehicle, but most importantly, it can save a potential mistake being an inconvenience rather than an emergency. Due to our all-day availability, if a spare key isn't required immediately, we can work around our client's schedule to best suit them. Much like replacing a car key, our locksmiths will take the primary key and use their key-cutting machine to cut a new version of your key (if you have the existing version or not) and code it. The coding process again ensures that the new key is synced with your vehicle and is fully operational.
Vehicle Ignition
Sometimes losing the car key itself isn't the issue our clients call us to solve. We have numerous cases where a client's key blade has broken in the ignition barrel, or the ignition barrel itself is worn down and not allowing the key to turn, leading to the car engine being unable to start. Our locksmiths have the equipment to remove broken key blades and produce a new ignition barrel. This ensures our clients can reuse their vehicles and return to the road.
Gaining Access Cars
Our locksmiths can gain access to hundreds of different cars. The way our locksmiths will gain access to a car includes; picking the lock of a car door, diagnostically opening the vehicle and air bagging. In most circumstances, our locksmiths will gain entry by picking the lock of the car; they can do this by training with all types of locks in our academy centre and having hundreds of different versions of car picks at their disposal. Commonly, the door locks can be picked, and access can be gained to the vehicle within minutes. The speedy and efficient level of service leaves our clients delighted at being able to get on with the rest of their day.
Gaining Access Vans
Our locksmiths are also trained to gain access to vans as well as cars. Keys being locked in vans can be a widespread occurrence due to the high-security lock systems parcel delivery vans will use. Most vans will have a Tibbe key lock which requires specialised equipment to unlock. Our fully trained auto locksmiths own these tools, including a decoder, pick, tension wrench and knowledge of how to use these tools to manipulate the pins in the lock.
Do you require any of the services we provide? Our friendly support team will be more than happy to help! Give us a call at 01603 367100 for an instant, non-obligation-based quote.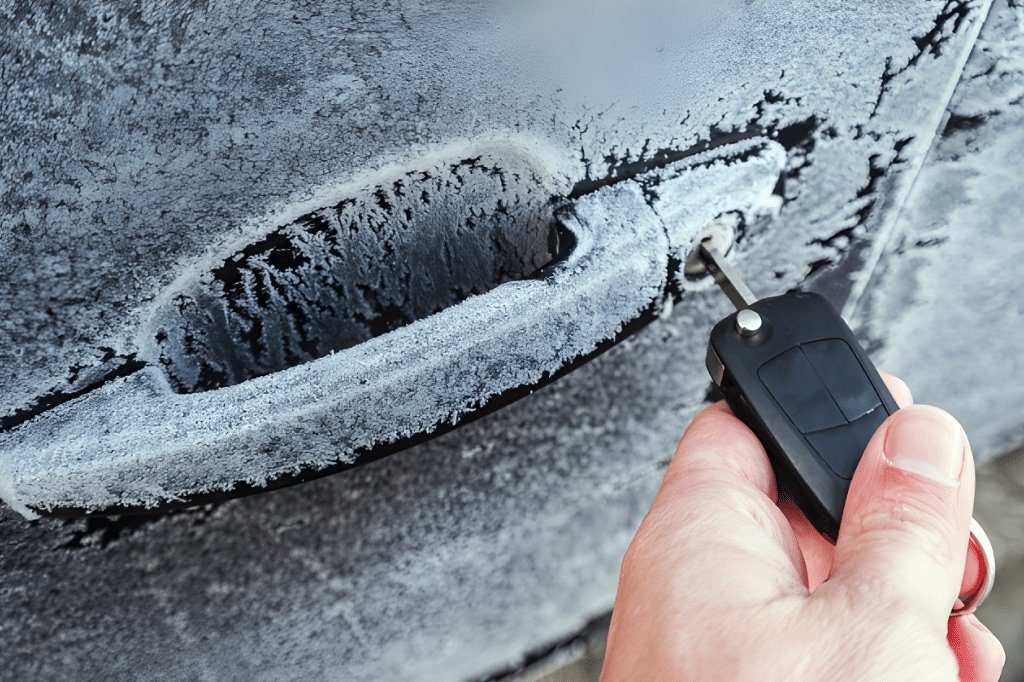 A Comprehensive Guide to Thawing and Preventing Frozen Car Locks Winter in the UK brings picturesque landscapes and festive cheer,