emergency auto locksmiths providing specialist services
Whether you are locked out of a car at home or on the roadside, having a reliable service you can trust to help you get back into your vehicle is crucial.
Here at We've Got The Key, we are a leading auto locksmith business committed to providing exceptional service with friendly customer support. Our team of locksmiths cover the entire UK and Ireland with a range of services, including emergency entry and car key replacement, to get you back in your car and on the road as soon as possible.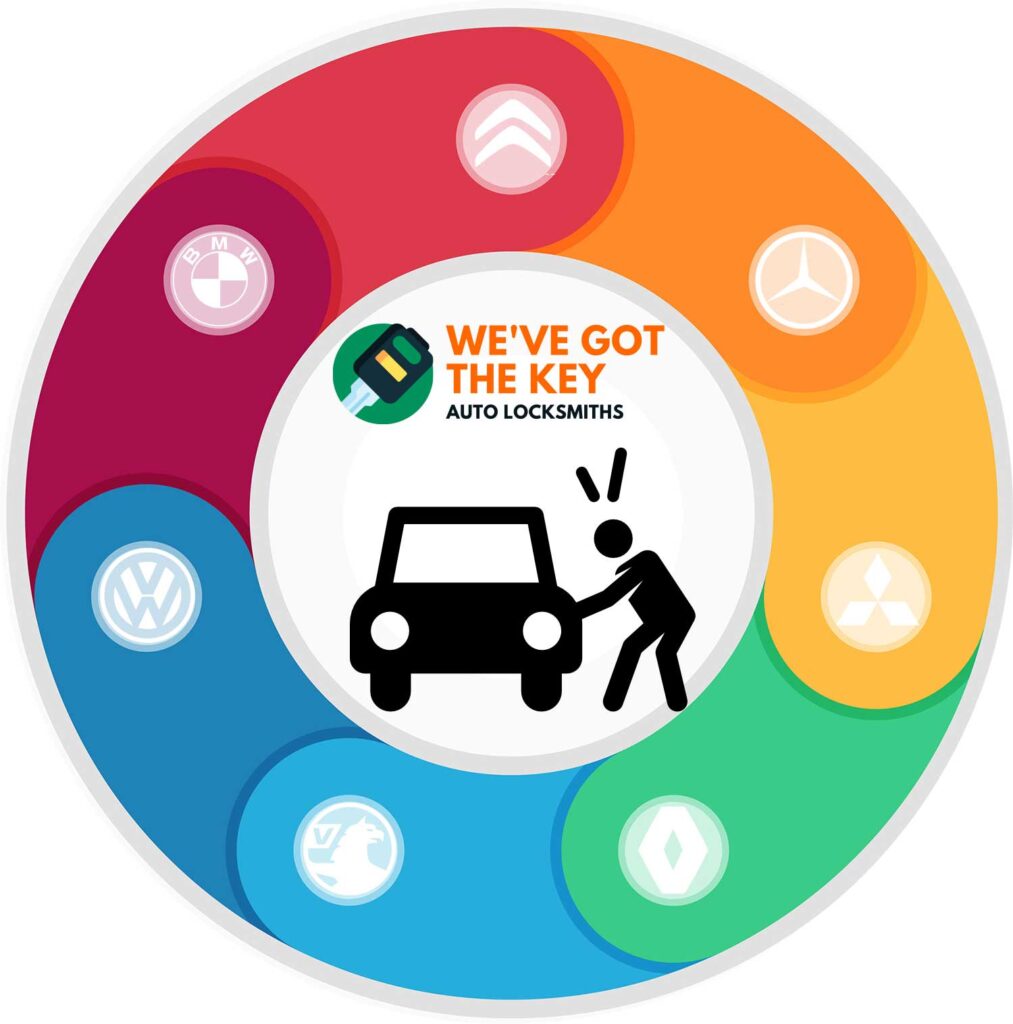 Whether your locks have frozen up or you require a new transponder fob, if you are locked out of your car, we can help you get back in. 
Trained in the use of specialist lockpicks that mimic the original key, our locksmiths are experts at retrieving keys locked in cars. Our methods are swift and non-destructive, allowing you to get back on the road without any further delay. 
Getting You Back in Your Car
Locked out of your car? At We've Got The Keys, our locksmiths are skilled in gaining access to thousands of makes and models of vehicles.
We are on hand 24 hours a day, 365 days a year to provide emergency car access services to assist with recovering keys locked in cars.
When you locked keys in the car
Sometimes you can accidentally forget the keys in the car and this will become a serious obstacle. Usually, in such cases, a person is late for work, for a meeting, to the airport, etc. However, even calling a taxi will not solve the problem, since the keys still remain locked in the car. You might think – I'll try to get them myself, and the Internet will tell you how to do it. But such a decision can lead to serious consequences and breakdowns.

Firstly, the mechanisms of the door can be damaged, after which they will need to be repaired or even bought new ones. opening a car as beautifully as they do in a Hollywood movie will not work. And – dont forget about the alarm. Usually, owners carry the keys with the alarm control, which means you can't turn it off without a spare key or remote control. By the way, we recommend that you always have a spare car key with you, which can be ordered here.
Your keys locked in the car? Don't worry!
Locked keys in the car can ruin your plans, and the best solution is to call professionals. So you can be sure that opening will be performed without negative consequences for the door locks. Our experts have extensive experience in solving such problems and will help you. We support most of today's brands and models, and your vehicle is sure to be on our list.
A complete list of our services can be seen on the website. The service that we provide to our customers will help you solve a lot of problems, relieving yourself and your loved ones from stress. Missing car keys are late for dinner with friends, school for a child or a business meeting.

Quick solution
When our expert arrives at the spot, he will not only solve the problem, but also advise you. We provide our clients with complete information about the employee who came to the call. You can see his personal information, progress and reviews left by other customers. In this way, we achieve complete trust in our work, and our reputation remains impeccable for many years.

Safe and high quality service
In order to keep the lock of your car intact, we use special safe master keys. In addition, other technical means are used that make access even faster and safer. Locking mechanisms, doors, electronics and wiring remain intact.

It is easy to contact us – the site contains a variety of contacts and our consultants will quickly respond to the request. We have many service centers and operate throughout the UK and Ireland. Our technicians come and assist you day and night, all year round. After your request, we will contact you within two hours to clarify all the details and other information.