Professional van key replacement services
Van Key Replacement Specialists for the UK
If your van keys have been lost or stolen, organising a quick replacement is vital for ensuring you can get back out on the road.
Here at We've Got The Key, we are a leading auto locksmith business committed to providing quality services, including van key replacement. Our team of locksmiths cover the UK and Ireland, while our call handlers are on hand to offer exceptional customer support whenever you need us.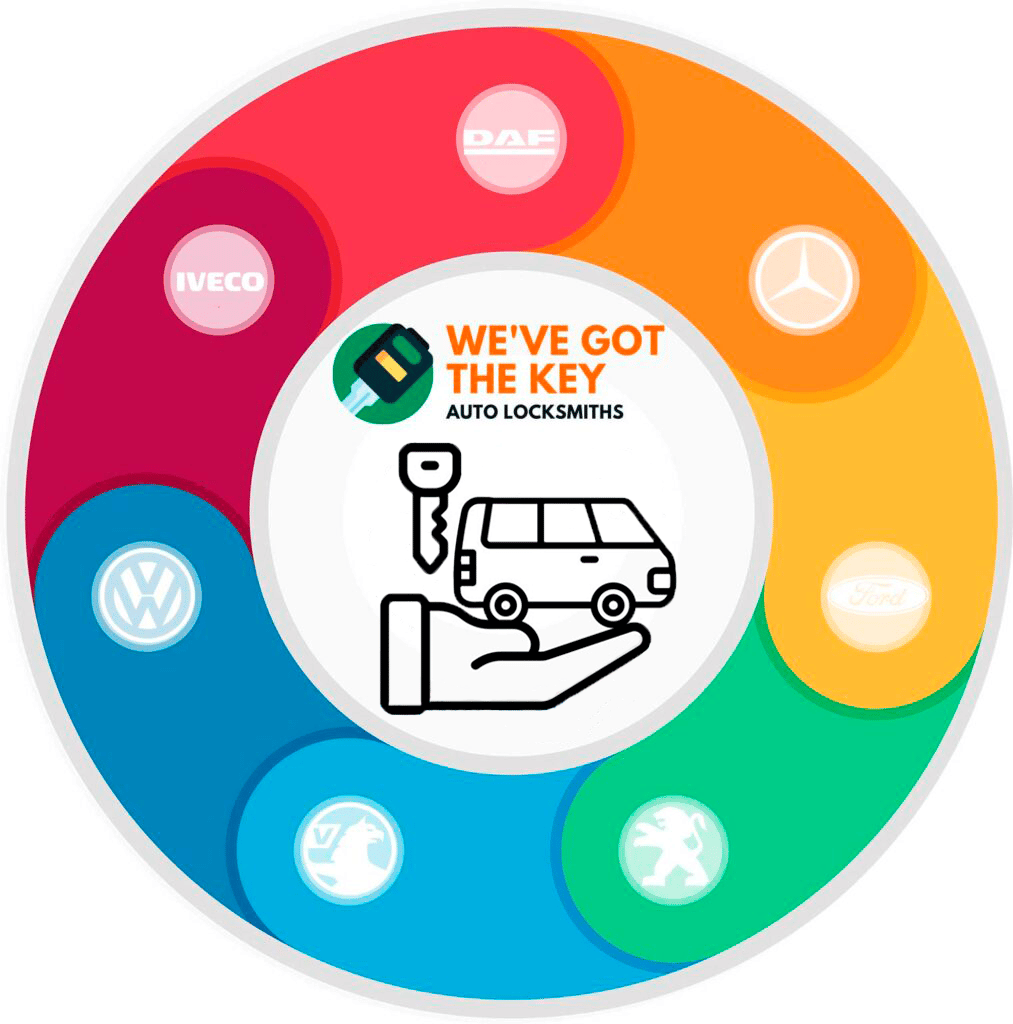 Replacement Van Keys Provided Any Time
When it comes to a van key replacement, we can often cut you an extra key from the original on the spot. However, many vehicles also have programmed remote keys, so organising a van key replacement on the roadside is unfortunately not as simple. 
As remote keys need to be individually programmed to work with the vehicle's security system, we typically need to cut the key with specialist equipment at one of our locksmith sites. 
We operate locksmith sites across the UK and Ireland to allow us to create replacement van keys, including programmed keys and fobs for your vehicle, hassle-free.
Van Key Replacement Experts You Can Trust
Our team of locksmiths provide van key replacements for all makes and models of vehicle. To create a new key, we require your vehicle registration document (VC5) and driving license as evidence that the van is yours before we can organise replacement van keys. 
If you forgot your keys in the van- this is a problem that needs to be solved as soon as you can. But, the fact is that doing it yourself is extremely difficult, and even dangerous because you can damage the car. Usually, locks, windows and locking mechanisms in doors are the first to suffer. We constantly remind you – you should not try to break into the car yourself, as subsequent repairs will cost you much more than calling a qualified specialist.
Sometimes the keys are locked inside, sometimes you can't find them. In any case, calling a technician is a necessary option. It will quickly and safely get inside your car. After that, we recommend that you order at least one additional key if the main key has been found. If the main key was lost and you could not find it, it is better to order a couple of new keys. So you will be safe from losing the key in the future, and you can easily get into your car.
We produce keys quickly, high quality and cheap. Van key replacement cost is also inexpensive – we always try to keep our prices low and the quality of service high. We respond quickly to calls, and have service centers throughout the country. Our specialists are highly qualified and ready to work day and night, all year round. We work seven days a week and holidays and are ready to help you at any time.
Van replacement keys is a type of service that you can order along with our other services. (it's a kind of service, which you can order with other our services). You can do this in just a few clicks by contacting one of the messengers listed on our website. You can also call us by phone – all calls are free. When you turn to specialists, a successful result is guaranteed.
We have been working in the UK and Ireland for many years. This formed an impeccable reputation for our company, allowed us to accumulate vast experience and form a large customer base. All the reviews that you can read on our website are left by real people who were able to solve their problems thanks to us. Replacement key for van, like other types of service, is performed by professionals, which eliminates the error or ignorance of the topic.
Each of our technicians has personal data, progress and history. All this is provided to the client for review, including reviews of other clients about this employee. At the same time, we securely store your personal data and other information, never passing it on to third parties. Contact us and get all the benefits of working with reliable locksmiths.