How to choose a reliable locksmith
Here at We've Got The Key, we pride ourselves on the quality of locksmiths we hire and train internally. Our locksmiths are trained with the industry's most up-to-date technology and continuously trained in the highest level of customer service. This training ensures we are safe in the knowledge that each of our locksmiths provides quality locksmithing and customer-based service on each of their jobs.
However, we know that not all locksmiths provide that service. In this piece, we give you a few tips and recommendations on choosing the ideal locksmith.
Look for a licensed and insured locksmith
It's important to choose a locksmith who is licensed and insured. Each of our locksmiths undergo extensive training and are fully licensed and insured. This ensures they are qualified and have the experience to provide reliable and safe services.
Consider their availability
Choose a locksmith who offers 24/7 availability in case of an emergency. Here at We've Got The Key, we are operational 24 hours a day, seven days a week throughout the year and throughout the UK. This ensures that you can get help anytime, anywhere. We also offer emergency roadside assistance as well as being able to offer direct delivery to your workplace or home.
Check the locksmith's experience
Choosing a locksmith who has been in business for a while and has experience working with different types of vehicles is a good idea.
Read reviews and ask for recommendations
Read online reviews and ask friends or family members for recommendations to find a locksmith with a good reputation. At We've Got The Key, we have hundreds of reviews on Trust Pilot, giving us an overall 'excellent' rating from our clients.
Ask about their services
Make sure the locksmith offers the services you need. For example, if you need a new car key, make sure they are able to create one for your make and model of car. Our support team will be able to tell you within a matter of seconds if the key you require can be cut and completed by the nearest locksmith to your specific location.
Inquire about pricing
Get a clear understanding of the pricing structure before hiring a locksmith. Ensure there are no hidden fees and ask for an estimate before they begin any work. Here at We've Got The Key, for example, our friendly support team will provide you with a breakdown of the cost of the service we would provide.
Verify their identity
When the locksmith arrives, ask to see their identification and ensure it matches the information you gave when you made the appointment.
Check the access type
An essential check to make when using a locksmith is how they are going to gain access to the vehicle. The last thing you want is to expect your lock to be picked safely and securely when the locksmith in question can only gain access by damaging your vehicle. At We've Got The Key, our friendly support team will clearly state your entry options based on your specific circumstances.
Why We've Got The Key?
Before our locksmiths are sent to your location, our support team will thoroughly explain the process our locksmith will go through for the job, an estimated time of location and the required work cost specific to your needs.
Our friendly support team are extensively trained in all things auto locksmithing. This ensures that regardless of the scenario, we've got the solution.
Our locksmiths are located across the United Kingdom, providing entirely local coverage wherever you're based.
We are operational 24 hours a day, seven days a week, throughout the year, meaning whenever you have your key issue, we'll be available to help.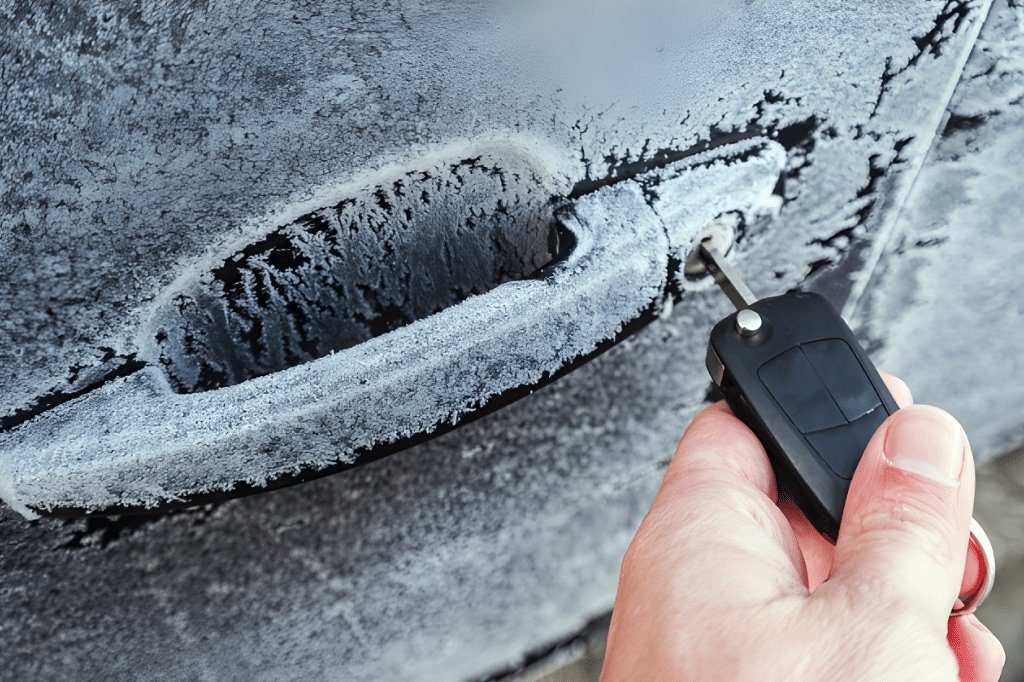 A Comprehensive Guide to Thawing and Preventing Frozen Car Locks Winter in the UK brings picturesque landscapes and festive cheer,