Does Car Insurance Cover Auto Locksmith Services?
Car insurance is essential for protecting your vehicle and providing peace of mind in case of accidents or unforeseen events. However, many car owners wonder if their car insurance also covers auto locksmith services. In this article, we will delve into the topic to help you understand whether your car insurance policy includes coverage for locksmith services. At We've Got The Key, we're dedicated to providing expert locksmith services to our customers in the UK, and we want to ensure you have all the information you need.
Understanding Car Insurance Basics
Before we dive into the specifics of auto locksmith coverage, it's crucial to understand the different types of car insurance and what they typically cover:
Third-Party Liability: This is the minimum legal requirement in the UK and covers damage or injury to other people and their property in the event of an accident.
Comprehensive Coverage: Comprehensive insurance offers a wider range of protection, including coverage for damage to your vehicle, theft, and vandalism.
Optional Extras: Many car insurance policies offer optional extras, allowing you to customise your coverage. These extras may include coverage for lost keys or auto locksmith services.
Auto Locksmith Coverage in Car Insurance
Coverage for auto locksmith services is not typically included in standard car insurance policies. However, some insurance providers offer optional extras that can be added to your policy for an additional fee. These optional extras may include:
Key Replacement: This coverage typically covers the cost of replacing lost or stolen keys, including electronic key fobs and transponder keys.
Locksmith Services: Some policies may include coverage for locksmith services if you are locked out of your car.
It's essential to review your car insurance policy or contact your insurance provider to determine whether you have any of these optional coverages in your policy.
When to Consider Auto Locksmith Coverage
If you frequently find yourself in situations where you might need locksmith services, considering auto locksmith coverage may be a smart decision. Here are some scenarios where it can be beneficial:
Lost or Stolen Keys: If you often misplace your car keys or have had them stolen in the past, key replacement coverage can save you time and money.
Lockouts: Accidentally locking your keys inside the car can be frustrating. Locksmith service coverage can provide you with quick assistance in such situations.
Choosing a Specialised Locksmith Service
While car insurance coverage for locksmith services is an option, it's also worth considering specialised locksmith services like We've Got The Key. Here's why:
Expertise: We specialise in locksmith services, ensuring that our team is well-equipped to handle all types of lock and key issues.
24/7 Availability: We're available around the clock, ready to assist you in emergencies, ensuring you're never left stranded.
Prompt Service: We prioritise your safety and convenience, providing quick and professional assistance.
In conclusion, car insurance coverage for auto locksmith services is not typically included in standard policies. If you frequently face issues like lost keys or lockouts, it's worth exploring optional coverage with your insurance provider. Additionally, consider specialised locksmith services like We've Got The Key for prompt and expert assistance when you need it most.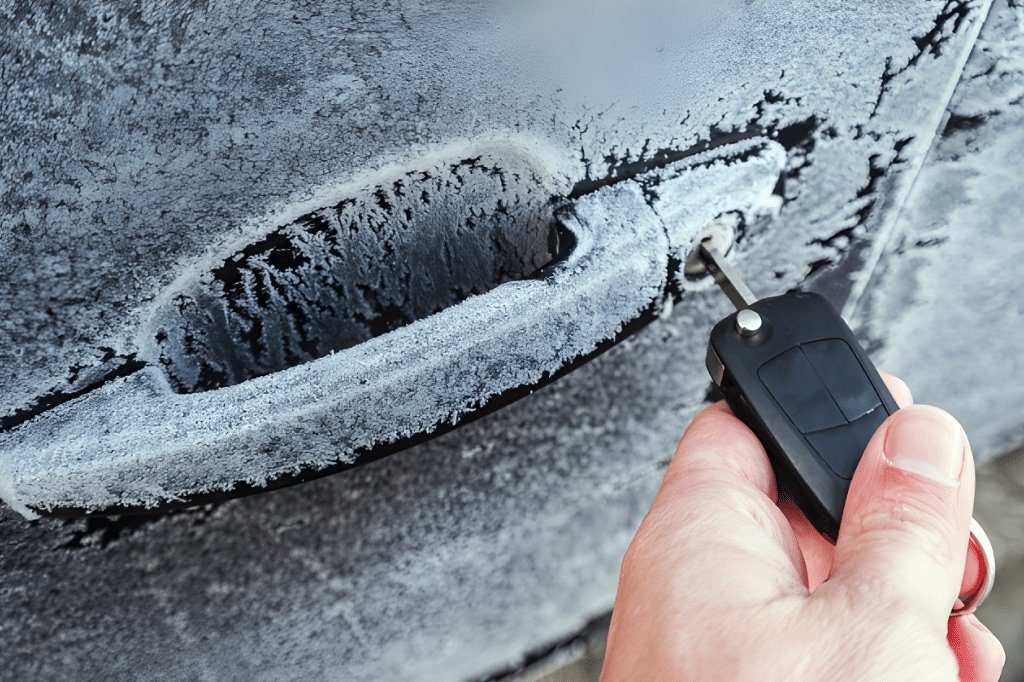 A Comprehensive Guide to Thawing and Preventing Frozen Car Locks Winter in the UK brings picturesque landscapes and festive cheer,