Auto Locksmith vs. Domestic Locksmith: Key Differences
In today's fast-paced world, where keys are an essential part of our daily lives, we often find ourselves in situations where we need the assistance of a locksmith. However, not all locksmiths are created equal. There are key differences between an auto locksmith and a general locksmith, and understanding these distinctions can be crucial when you need professional help.
We've Got The Key is your go-to destination for all your locksmith needs in the UK. In this article, we will explore the differences between auto locksmiths and general locksmiths, and why choosing We've Got The Key for your locksmith services is the right decision.
Auto Locksmiths: Unlocking the Details
Auto locksmiths are specialists when it comes to dealing with vehicle locks and keys. Whether you find yourself locked out of your car, need a replacement key, or are facing issues with your car's immobiliser system, an auto locksmith is an expert you need. Key differences between auto locksmiths and their general counterparts include:
Specialisation: Auto locksmiths focus exclusively on vehicles. They have in-depth knowledge of various car makes and models, making them the go-to professionals for car-related lock and key issues.
Specialised Tools: Auto locksmiths use specialised tools and equipment designed for vehicle locksmith services. They can handle transponder key programming, key fob replacement, and ignition repair with precision.
24/7 Availability: Emergencies can happen at any time. Auto locksmiths are available around the clock to provide quick and efficient assistance, ensuring you're never stranded with car locks or key problems.
General (Domestic) Locksmiths: The All-Round Solution
General locksmiths, on the other hand, offer a broader range of locksmith services. They can assist with residential, commercial, and automotive lock and key issues. Here are some key differences between general locksmiths and auto locksmiths:
Versatility: General locksmiths can handle a wide range of lock and key problems, including home and business security needs. They provide services such as rekeying, lock installation, and emergency lockout solutions.
Master Key Systems: General locksmiths can design and implement master key systems, which can be essential for businesses and large residential properties.
Security Consultation: They offer security consultations to help you assess and enhance the safety of your home or business.
When it comes to locksmith services in the UK, We've Got The Key stands out as the premier choice. Our team of expert locksmiths, both auto and general, is highly trained and equipped to handle any locksmithing task. We understand the importance of security and access, and we're dedicated to providing top-notch service to our customers.
Why Choose We've Got The Key?
Expertise: Our team of locksmiths comprises specialists in both auto and general locksmith services, ensuring that whatever your needs, we have the right expertise.
Cutting-Edge Technology: We invest in the latest tools and technology to provide efficient and precise locksmith services.
24/7 Availability: We're available around the clock, ready to assist you in emergencies, ensuring you're never left stranded.
Customer Satisfaction: We prioritise your satisfaction, and our track record speaks for itself. We take pride in our reputation for quality and reliability.
In conclusion, whether you require the services of an auto locksmith or a general locksmith, We've Got The Key is your trusted partner. Our team of experts is dedicated to providing the best locksmith services in the UK, ensuring your security and access needs are met with professionalism and efficiency. Don't wait until you're locked out or facing a security issue – contact us today, and let We've Got The Key to solve all your locksmithing needs.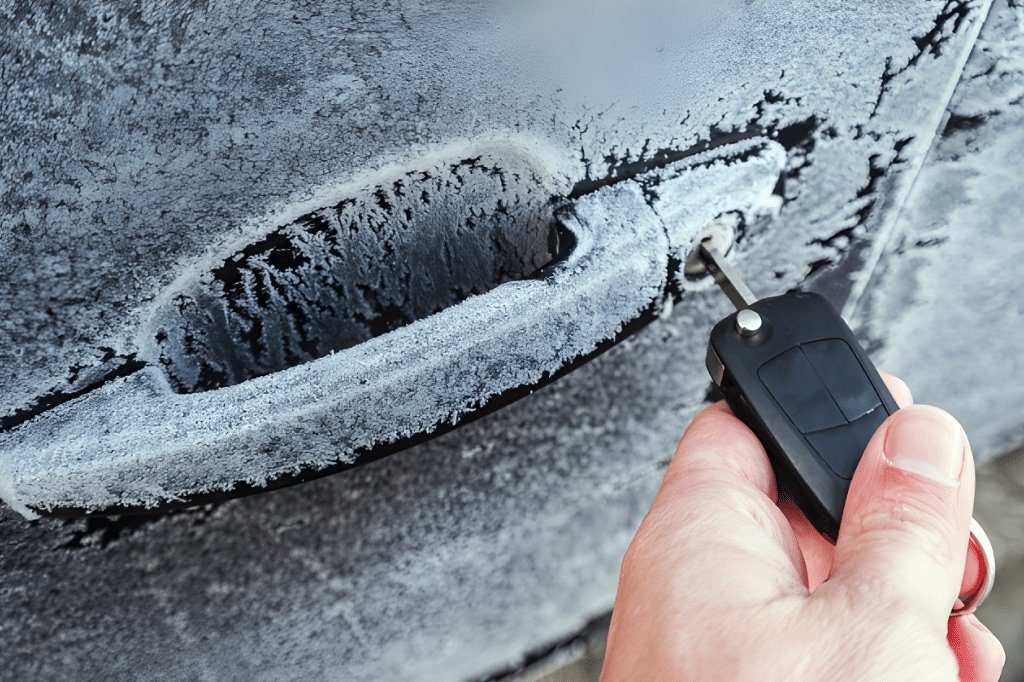 A Comprehensive Guide to Thawing and Preventing Frozen Car Locks Winter in the UK brings picturesque landscapes and festive cheer,