Locked Out in the Cold: Preventing Accidental Lockouts While Warming Up Your Car
Wintertime often means cold mornings, icy windshields, and the temptation to warm up our cars before hitting the road. But what happens when you step out of your home, only to realise that you've locked yourself out of your car, with the engine running and the heater on? It's a situation that many of us have experienced at least once, and it can be frustrating and even dangerous. In this article, we'll explore some practical tips to prevent accidental lockouts during those chilly winter mornings and how We've Got The Key can be your solution to such predicaments.
Invest in a Remote Starter
One effective way to avoid being locked out of your car while it's warming up is by using a remote car starter. These devices allow you to start your vehicle from a distance, ensuring that it's ready and toasty when you step inside. This also eliminates the need for a key to start the car, reducing the chances of locking yourself out accidentally. Be sure to check the legality and safety guidelines for using remote starters in your area.
Keep an Extra Set of Keys
It's a simple yet effective solution – having a spare car key handy. Keep an extra set of car keys in a secure and easily accessible location, such as inside your home, with a trusted neighbor, or in a lockbox near your car. This way, you can quickly retrieve your spare key if you ever lock yourself out.
Use a Keyless Entry System
Keyless entry systems are becoming increasingly common in newer vehicles. These systems allow you to unlock and start your car without physically using a key. If your vehicle is equipped with this feature, it's a convenient way to prevent lockouts while warming up your car.
Invest in a Key Finder Device
Key finder devices are small electronic gadgets that help you locate your keys quickly if you misplace them. Attach one to your car key ring, and you'll never have to worry about losing your keys or being locked out again.
Make a Morning Routine
Establishing a morning routine can help you remember the important steps to take before warming up your car. Check for your keys, ensure the doors are unlocked, and only then start the engine. Consistency is key to preventing lockouts.
Contact We've Got The Key near you
We've Got The Key is your ultimate solution for accidental lockouts and automotive locksmith needs. Our team of professionals specialises in car lockouts and can quickly get you back on the road, even during the coldest of mornings. With a commitment to timely and reliable service, we're just a call away to rescue you from your lockout situation.
Preventing accidental lockouts while warming up your car in cold weather is entirely possible with a little planning and the right tools. Whether you opt for a remote starter, a spare key, keyless entry, or a key finder device, taking proactive steps can save you from the frustration of being locked out in the cold. And if, despite all your precautions, you still find yourself locked out, remember that We've Got The Key is here to help you quickly regain access to your vehicle. Stay warm and stay prepared!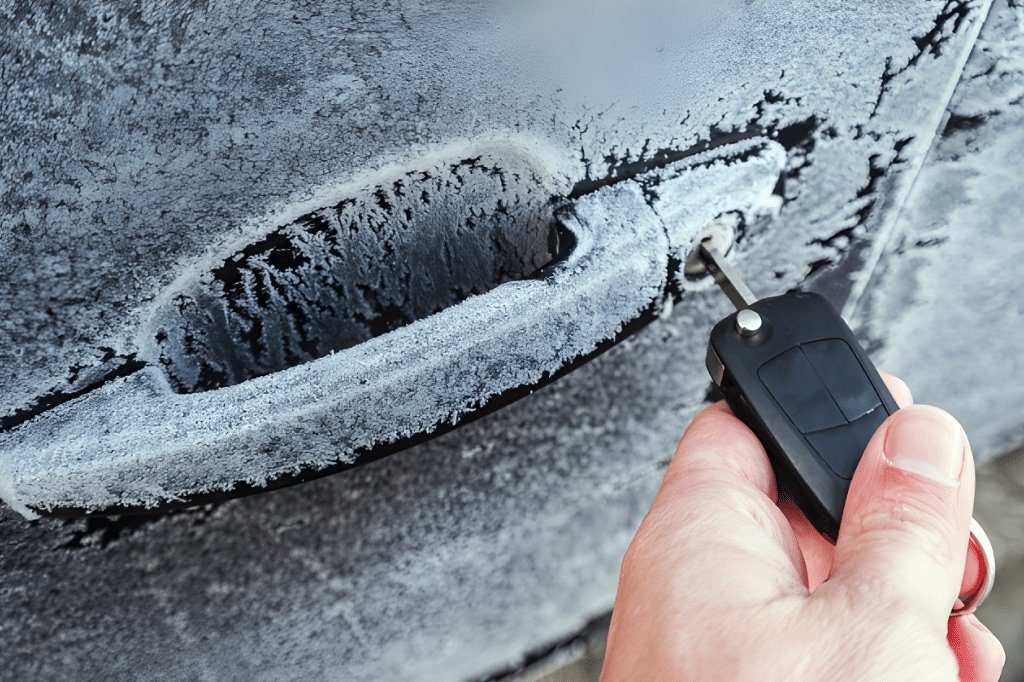 A Comprehensive Guide to Thawing and Preventing Frozen Car Locks Winter in the UK brings picturesque landscapes and festive cheer,