Toyota Car locksmiths near you 24/7.
Our company is engaged in maintenance of Toyota cars and vans of almost all models.
Our locksmiths can help you if you have lost or broken your car keys. We can also help you if you have locked your keys inside your vehicle.
You can contact us 24/7 from anywhere in the UK and Ireland.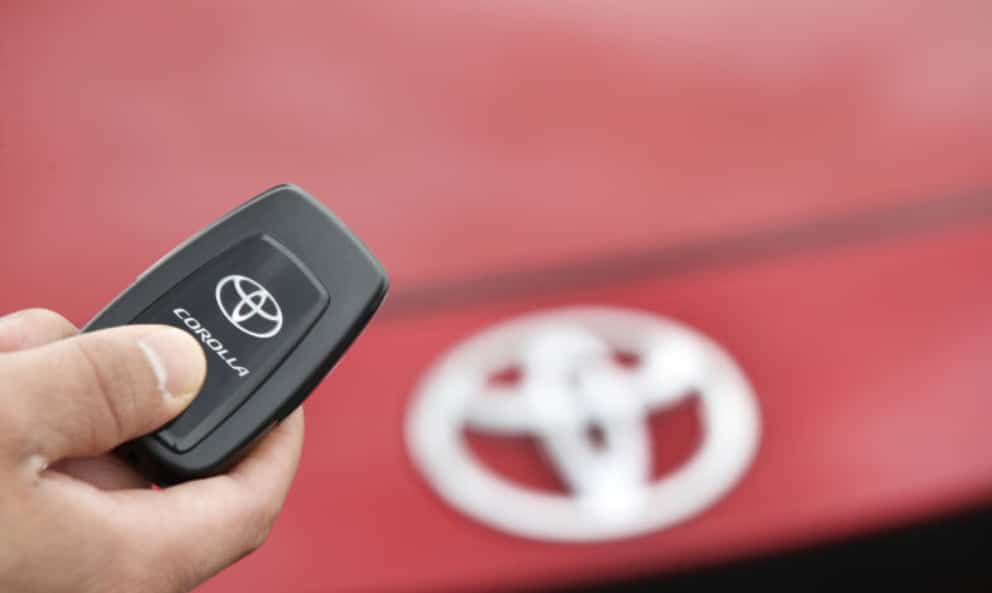 We will help you with the replacement of the key for Toyota of almost any model. Just call or email us.
Best auto locksmith for Toyota
Many people have come across a situation where the keys to the car are lost and it is impossible to get inside. At such moments, everyone needs the help of a professional, regardless of the brand of car, be it Mercedes or Toyota. Locksmith "near me", with affordable prices and quick, professional service – everyone wants it. Not every company can offer such a level of services, however, over the years of work in the UK market, we have achieved significant success. This allows us to locate our service centers throughout the country, provide services, offer reasonable prices and provide a high level of training.
Why is it a bad idea to try to break into a car yourself?

Toyota cars are popular all over the world, and in the UK there are many owners of Toyota cars of various models and trim levels. Many models, especially modern ones, have a high-quality, advanced security system that only a trained, experienced specialist can handle. For this reason, we do not advise you to try to get inside on your own, using improvised means and articles from the Internet for this. Such initiatives usually end badly – broken doors, locks, scratches, cracked or broken glass. Here's what's waiting for you.
Calling a professional expert is the best solution!
Instead of increasing the number of problems, it is better to immediately turn to professionals. Our specialists work without days off and breaks to provide quick resolution of problems and high quality services. You can always contact us using one of the specified contacts and we will quickly take your call. This is the smartest decision you can make in a situation where you can't find your keys.
High-tech equipment and modern tools
Our technician will come to the call with all the necessary equipment and tools, to perform work of various levels of complexity. This may include working with electronic and software components of the security system, and working to safely unlock doors using special tools.
Safe entry methods
We always work so as not to damage your car. Once access to the car has been restored, you can order new keys from our locksmith. Toyota car keys are a must, because if the key is lost, you will not be able to use the car without a new key. We carry out Toyota key cutting quickly and use original samples. Even if the key is found later, the extra key is always good insurance. Call us anytime, any day, 24 hours a day, day and night, all year round. We will provide you with professional assistance quickly and efficiently!