professional auto locksmith services
Auto Locksmiths in St Albans
Here at We've Got The Key, we are a leading auto locksmith business providing a full range of quality services to clients in St Albans.
Whether you require replacement car keys or emergency vehicle access at the roadside, we can help. As a team, we understand the importance of friendly and reliable customer support, which is why our call handlers are available 24 hours a day to help find you a resolution to your issue.
Emergency Car & Van Locksmiths Covering St Albans
No matter where in St Albans you might be, our team of emergency auto locksmiths can get to your location and have you back on the road again without any hassle.
Our locksmiths carry the latest equipment to assist with all make and model of vehicles and will always try to reach you within two hours of your initial call.
Vehicle Access & Entry Experts St Albans
Locked out of your car? If require urgent vehicle access and entry services – whether at home or by the roadside, our team of auto locksmiths can help. Our locksmiths re-open cars and vans using specialist lockpicks that mimic the original key – allowing for swift, non-destructive vehicle access.
Replacement Vehicle Keys St Albans
Whether you have misplaced your car keys or require a spare set in case of emergency, we offer a number of services for replacement vehicle keys to help. We cut the majority of replacement vehicle keys from the original on the spot while we can also create programmed remote keys at our many sites throughout St Albans.
We can also offer clients a full range of key fobs, key cards and transponder keys, all of which come with a 12-month guarantee.
Car locksmiths in St Albans
Here at We've Got The Key, we offer a full van and car locksmith service throughout St Albans. Our fully qualified locksmiths are all trained in house. The benefit of this is that we know they have all been trained in using the latest tools and equipment. By being trained in house we also know our locksmiths will provide you with the best service across St Albans. We are open 24 hours a day, 7 days a week across the year meaning whenever and whatever your vehicle's key issues we can help you.
Spare Keys in St Albans
We've seen thousands of cases when a spare key really would've been useful! There are several bonuses to owning a spare key. Firstly, if you lose your main key your spare allows you to access and operate your vehicle. When looking to sell your vehicle having a spare key makes your vehicle more valuable to a potential buyer. With more modern car keys being battery based they are more prone to suddenly stop working compared to a standard flip or proximity key. Owning a spare key in such a scenario can be a life saver. At We've Got The Key we stock hundreds of keys, at cheaper prices than dealers, all perfect for your vehicle as a spare key. Our fully qualified locksmiths are also able to code more modern keys to ensure your spare key is fully operational with your vehicle.
Lost Car Keys in St Albans?
Have you lost your car keys in St Albans and need to gain access to your vehicle with some new keys? We've Got The Key can help. After giving our number a call you will be sent through to one of our friendly and experienced support team.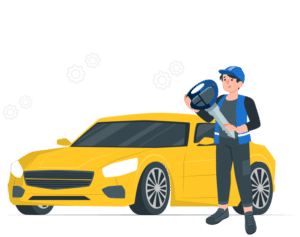 Our team will ask you a number of simple questions, including, the type of lost key, the registration number of the vehicle and your location. After gathering this information, our support team will search through our high number of fully qualified locksmiths located throughout St Albans to see which one is closest to your location. We will then be able to offer you a free, no obligation-based quote and schedule our locksmith in to come and see you as soon as possible. In emergency scenarios, we will be able to get a locksmith out to cut you a new car key to replace your lost car key on the same day. Our locksmiths are also able to decode any lost keys so even if they were located the key would be completely voided of its previous uses. With our service being operational 24 hours a day, 7 days a week, we are also able to schedule a time and location that works best for you if a same day service doesn't work with your schedule.
Why choose We've Got The Key?
Our locksmiths and support staff all work in-house. This is vitally important for us so we know that our locksmiths and support staff can communicate directly. We see this as important and hugely beneficial when dealing with your queries and ensuring a quick, seamless and quality process for all of our clients.
We also have a number of fully qualified car locksmiths based locally in St Albans. This means our support staff can easily find a locksmith close to your destination to get you back in your car/giving you access back to your vehicle so you can get on with the rest of your day. Our locksmiths also know the roads and areas of St Albans meaning delays over being lost in a place a locksmith doesn't know doesn't occur, meaning more time to be able to get each of our customers issues resolved.