professional auto locksmith services
In Leeds and need auto locksmith services?
At We've Got The Key, we are a national auto locksmith business proud to offer quality services with exceptional customer support. Our auto locksmiths will always attempt to be with you within two hours and try to resolve your car troubles on the spot. 
Emergency Car & Van Locksmiths Covering Leeds
Whether your keys are locked inside the car or have snapped in the ignition, our emergency auto locksmiths are here to help 24 hours a day, seven days a week.
We understand the value of reliable and sympathetic customer support, especially in a crisis. We train all our call handlers to manage your issue with care while ensuring you are kept up to date on the progress of your locksmith as they travel to your location. 
Vehicle Access & Entry Experts in Leeds
Locked your keys inside your vehicle? At We've Got The Key, our car locksmiths are experts when it comes to gaining vehicle access through fast and efficient non-destructive methods. We offer our vehicle access service for cars and vans of all makes and models, including BMW, Ford and Vauxhall.  
Replacement Vehicle Keys Leeds
Require a replacement vehicle key? Whether at home or by the roadside, our auto locksmiths can travel out to your location to cut you replacement vehicle keys on the spot. We can also cut programmed remote keys at our many sites throughout Leeds to ensure your new replacement vehicle keys work with your security system.
All our products come with a 12-month guarantee while we also offer a range of key fobs, key cards and transponder keys.
Car locksmiths in Leeds
Leeds is a large city with a developed infrastructure and a large number of road transport. Every car owner knows what problems the loss of a key can cause. It always disrupts plans, makes you late, you have to call a taxi or rent a car. In such a situation, only calling auto locksmiths can help. Leeds, or another city in the UK – we are ready to help you any day of the week, day or night. The most reasonable and effective solution would be to call an expert who can work with any type of car, has experience and qualifications. Our professionalism – is your guarantee.
Trying to get into the car on your own is doomed to failure
The decision to call a professional specialist is the most reasonable, but not all people choose this path. Many act impulsively, especially if they are late for a business meeting or event. In this case, the person begins to act chaotically and loses control over the situation. He tries to open the car himself, with the help of tools that he has in the garage, or with the help of friends. Often, doors, door locks, trunk, windows suffer from such actions, and all that a person achieves is scratches, dents on the doors, broken locks and other problems with the car. We do not recommend anyone to do this, as it does not solve the problem, but only increases the consequences.
Safe opening and quick help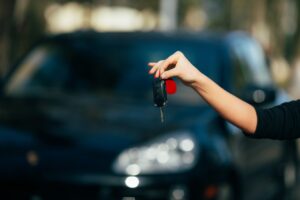 In order to crack cars without damage, quickly and efficiently, you need to be trained and gain experience. Such experience accumulates only in real situations. Our car locksmiths in Leeds and other cities receive intensive training. Training includes a lot of work in real conditions with different cars. Therefore, each of our employees is at the same time a truck, car and van locksmith. In Leeds we have a service center, so our technician will come to you quickly and get to work right away. Just make a call and we will call you back. Also, you can use other contacts that are listed on our website.
Car key cutting – Leeds
You can order car key replacement in Leeds from us. We will produce a new, quality key for you in a short time. Since we use only original blanks from automotive brands, our keys work for a long time. We always care about the quality and results of our experts' work. Key production is the first step. Programming follows, and the key will have all the functionality you are used to. We can make as many keys for you as you need.
Convenient work schedule and affordable prices
We work 24 hours a day, seven days a week, holidays and breaks, constantly assisting our clients in difficult situations. We work all year round, so you can receive quality service from qualified experts. Each of our technicians has all the necessary documentation and certificates. Also, you can get acquainted with the personal information and progress line of an expert who came on the site. We provide full access to the history and reviews of a specialist. We always go towards our clients, showing openness. We value our excellent reputation and leadership position in the UK market.