DAF Car locksmiths near you 24/7.
Our company is engaged in maintenance of DAF cars and vans of almost all models.
Our locksmiths can help you if you have lost or broken your car keys. We can also help you if you have locked your keys inside your vehicle.
You can contact us 24/7 from anywhere in the UK and Ireland.
We will help you with the replacement of the key for DAF of almost any model. Just call or email us.
DAF locksmith throughout England, Ireland and Scotland
DAF mainly produces trucks that are used all over the world. These are reliable vehicles, but when the keys are lost you cannot get inside. If you are a truck driver, you value time very much, especially if the keys were lost during the delivery of the cargo. For example, you stopped to have dinner and spend the night in a hotel, and in the morning you cannot find the keys. This is where a DAF locksmith comes to your rescue, and solves the problem professionally, and safely, without damaging the locks.
Our professionals will open any car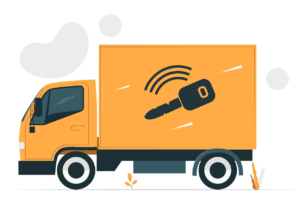 Each car manufacturer uses different methods and techniques to make access more difficult. For this reason, you should not try to open the car yourself. This may result in you not being able to close or open the vehicle at all. Broken locks, dented doors, scratches, broken door windows are real consequences. Many people think that opening a car is not difficult. Perhaps, this is due to movies where burglars easily open a car with a screwdriver or a ruler. In reality, such methods can only work on outdated models of the last century. But there is no guarantee of successful opening even on older car models.
DAF locksmith repairs – best, fast service
If you have a relatively new model in front of you, you should not count on success. But getting problems with locking mechanisms and locks is quite real. Therefore, we always tell our customers – do not open the door yourself, immediately contact the professionals. We operate throughout the UK and Ireland. Also, we have service centers in Scotland. So, you can contact us at any time, from any city in the UK. Our experts will quickly and efficiently provide access to your car.
Locksmith for DAF
– prices and service for people
If necessary, we will make new keys for you as soon as possible. Our technician will inspect the car and make recommendations to avoid similar problems in the future. Our technician will penetrate the vehicle without causing damage. Safety, efficiency, speed, professionalism – that's what we focus on in our work. When you call our specialist, you can be sure of success. We also offer affordable prices.
Our DAF locksmith for cars and trucks understands the intricacies and specifications of models, and knows how to act correctly in various situations. We will quickly open your car and program a new key, which will be made by our technician. This way you can get on the road quickly. Call us day and night, all year round, seven days a week.