professional auto locksmith services
Auto Locksmiths in Birmingham
Here at We've Got The Key, we are a leading auto locksmith business providing a full range of quality services to clients in Birmingham.
Whether you require replacement car keys or emergency vehicle access at the roadside, we can help. As a team, we understand the importance of friendly and reliable customer support, which is why our call handlers are available 24 hours a day to help find you a resolution to your issue.
Emergency Car & Van Locksmiths Covering Birmingham
No matter where in Birmingham you might be, our team of emergency auto locksmiths can get to your location and have you back on the road again without any hassle.
Our locksmiths carry the latest equipment to assist with all make and model of vehicles and will always try to reach you within two hours of your initial call.
Vehicle Access & Entry Experts Birmingham
Locked out of your car? If require urgent vehicle access and entry services – whether at home or by the roadside, our team of auto locksmiths can help. Our locksmiths re-open cars and vans using specialist lockpicks that mimic the original key – allowing for swift, non-destructive vehicle access.
Replacement Vehicle Keys Birmingham
Whether you have misplaced your car keys or require a spare set in case of emergency, we offer a number of services for replacement vehicle keys to help. We cut the majority of replacement vehicle keys from the original on the spot while we can also create programmed remote keys at our many sites throughout Birmingham.
We can also offer clients a full range of key fobs, key cards and transponder keys, all of which come with a 12-month guarantee.
Always on duty – mobile car locksmiths in Birmingham
Birmingham is one of the largest cities in the UK, the second largest in terms of population, and is also an important business center. If you live in an active daily rhythm, any problems with the car can seriously affect your plans. Problems need to be resolved quickly and efficiently, which requires the involvement of only professional technicians with an impeccable reputation. This is especially important when it comes to lost keys.
Solve problems quickly and efficiently!
The situation when a person cannot find his keys in the morning is quite common, and it is always a big surprise and stress. Late for an important business meeting, for work, the inability to take the children to school – all this is not uncommon. Only high-quality Birmingham auto locksmiths "We've got the key" can help here. We do our work effectively and offer many types of services. To enable you to use our service anywhere in the UK and Ireland, we have created a huge network of service centers, including Birmingham. In Birmingham you can enjoy our services and great, professional technicians. In every district of this big city, we will assist you to solve the problem with the car. You just necessity to contact us at any of the specified contacts and voice your problem.
What problems can you meet
There may be several problems. For example, sometimes a person simply loses their keys and cannot find them.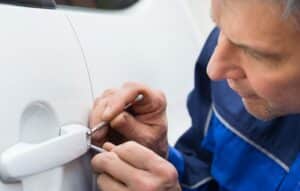 Then, in addition to getting inside the car, you will also need car key cutting. Birmingham is a big city, so the sooner you contact us, the sooner we can help you. After penetration and production of new keys, car key programming is also required – in Birmingham we are leaders in the market, working with any modern car brands and various types of vehicles. In other cases, people forget their keys inside the car. It also requires a quick and professional entry, but our car locksmiths in Birmingham can handle it with ease. Also, you can get advice from our technical specialist on site to avoid similar problems in the future. The specialist will offer you additional services, and you can, for example, order a second key.
Advanced Techniques – Modern Equipment
We get into your car using only the most modern methods that do not damage the locks. All elements of doors, mechanisms and windows also remain intact. We use special master keys, inflatable pillows and wedges for breaking. Also, our employees use electronic equipment, which allows them to break into the electronic security systems of the car. The work is carried out comprehensively and in each situation we adhere to an individual approach to the client.
Various services
Car or van locksmith, Birmingham area – "We've got the key" offers a wide range of services, professional staff and a quick solution to your problems. An individual approach means effective solutions and a correct assessment of the situation. So we can guarantee success in 99.9% of cases. Our clients always receive the best possible service.
Fast and professional car key programming, Birmingham
Sometimes the client does not need a car break-in, and he needs, for example, a car key replacement. Birmingham, or another region of England – we will always come fast to the rescue and do all we can to get you on your way as quickly as possible. Especially, if you are a businessman living in a place like Birmingham. Car key replacement is required in various situations, sometimes even because the old key wears out or is subject to mechanical damage. It can be difficult to open the car with such a key, and it is better to replace it immediately so as not to get into a situation where the car will be impossible to open. If you are a businessman and your day is spent in various business meetings, you cannot waste time waiting. Therefore, our technicians always quickly arrive at the call. We take into account the peculiarities and wishes of each of our clients.
Professionalism and efficiency
We can cut and program the key of any difficulty level. Our service centers are equipped with modern equipment, so we can afford a variety of services. Including high-quality, fast key cutting. Birmingham, London, Bristol – our experts work all over the country and have thousands of reviews from grateful customers. "We've got the key" has a great reputation and always meets the needs of its customers. Each of our technicians has a history and progress, customer reviews and personal information. You can see all of this with your own eyes at any moment, because our business is always clear. In our activity, customer opinion is very valuable, and relationships with clients across the country are formed over the years. The company "We've got the key" is one of the leaders in the country's market, providing high-quality, diverse services.
Full time activity
Our qualified workers will help you at any time, day or night. We work without days off and breaks, all year round. It is always easy to contact us using any of the contacts indicated. Our consultants will answer the call, clarify the details and calculate the waiting time. You can contact us right now and we will do our best to assist you solve the problem. Our technician will arrive at the scene, diagnose and offer solutions. You will not need to call additional workers – each of our technicians has all the necessary tools and equipment with them.
Any types and models of cars
We work with all modern cars – Rover, Ford, Renault, Vauxhall, BMW, Peugeot, Mercedes and others. Our specialists are certified employees with extensive experience, whose main task is to help the client solve the problem. A high level of professional skills and the latest equipment guarantee success. Contact us right now!