professional auto locksmith services
Here at We've Got The Key, we are a leading auto locksmith business providing a full range of quality services to clients in York.
Whether you require replacement car keys or emergency vehicle access at the roadside, we can help. As a team, we understand the importance of friendly and reliable customer support, which is why our call handlers are available 24 hours a day to help find you a resolution to your issue.
Emergency Car & Van Locksmiths Covering York
No matter where in York you might be, our team of emergency auto locksmiths can get to your location and have you back on the road again without any hassle.
Our locksmiths carry the latest equipment to assist with all make and model of vehicles and will always try to reach you within two hours of your initial call.
Vehicle Access & Entry Experts York
Locked out of your car? If require urgent vehicle access and entry services – whether at home or by the roadside, our team of auto locksmiths can help. Our locksmiths re-open cars and vans using specialist lockpicks that mimic the original key – allowing for swift, non-destructive vehicle access.
Replacement Vehicle Keys York
Whether you have misplaced your car keys or require a spare set in case of emergency, we offer a number of services for replacement vehicle keys to help. We cut the majority of replacement vehicle keys from the original on the spot while we can also create programmed remote keys at our many sites throughout York.
We can also offer clients a full range of key fobs, key cards and transponder keys, all of which come with a 12-month guarantee.
We've got the key York
Here at We've Got The Key, we offer a full van and car locksmith service across York. Our fully qualified locksmiths are all trained in house. The benefit of this is that we know they have all been trained in using the latest equipment and will provide you with the best service across York. We are also open 24 hours a day, 7 days a week across the year meaning whenever and whatever your vehicles key issues we can help you.
Lost your car keys in York?
We've all been there, getting ready to leave the house and we can't find our car keys. Firstly we would recommend to re-trace your steps to check your car keys have indeed been lost. You can then ring up our friendly support team who will take some information about your lost key, your vehicle and location. We will be able to offer you a free quotation based on the information you have provided.
Our support team will then be able to locate one of our many fully qualified locksmiths across York to see their earliest availability and complete the job of cutting you a new key and/or a spare key the same day. With newer vehicles, keys will need to be decoded and recoded which our locksmiths are also trained to do, meaning, if your lost keys were to fall into the wrong hands, they would no longer be usable.
Most of our clients either call us from home, at work or on the roadside. Due to our number of highly experienced locksmiths across York we will be able to get out to you to solve your key issues getting you back on your way the same day.
In need of a spare key in York?
As well as cutting replacement keys for lost keys we can also provide you a spare key, they're certainly very useful to have and something we would fully recommend in owning! Copying and cutting a spare key is also a lot quicker and a lot more cost effective process compared to our locksmiths creating/cutting a new set of keys to replace a lost singular key.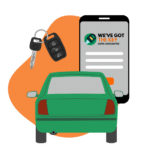 Having a spare key also avoids a stressful situation of potentially being locked out of your vehicle when you really need to get somewhere in York. With newer car keys having batteries which can stop working at short notice it is again a smart idea and future stress saving process to have a spare key for your vehicle.
Locked out of your car in York?
Across the years we've had many circumstances of clients either going out to the shops and locking their keys in the boot. We have also had calls from clients at home who can see their key locked in their vehicle and rather than damaging their vehicle they ring for our expert approach. Simply, we see these situations all of the time! We also regularly deal with emergency situations of dogs or children being locked in cars. From calling us to our locksmiths coming out to you, our aim at We've Got The Key York is to complete our jobs as quickly and efficiently as we possibly can for you.
Why We've Got The Key?
Our fully qualified locksmiths are perfect in an emergency. With years of experience and hundreds of jobs between them, there isn't a scenario our locksmiths haven't seen. We also train all of our locksmiths in house, meaning we know they are trained in the most up to date processes and technological advancements as well as being able to offer you the most efficient and thorough service possible.
Our support team are also able to directly contact our locksmiths to ensure they have all of the information about the job in hand, meaning our locksmiths know exactly what you need before they are with you.